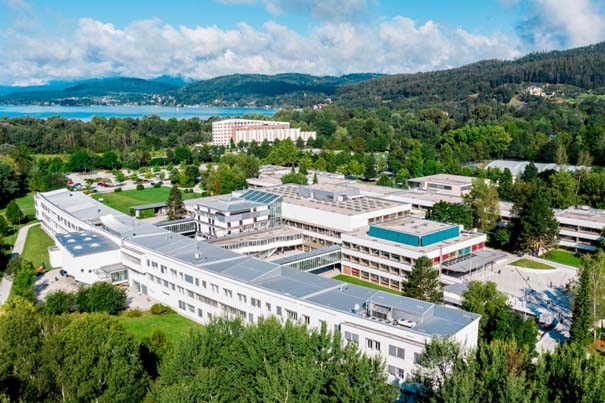 The University of Klagenfurt (AAU) is a young, lively, innovative university located in the Austrian state of Carinthia, a meeting point of three cultures. With over 11,600 students the university is Carinthia's largest academic institution and a hub for the whole of the Alps-Adriatic region in terms of knowledge acquisition, exchange and transfer. The university consists of four faculties and 34 departments, employing around 1,500 staff members who strive for excellence in education, research and university management.
The university's lively, diverse atmosphere and sense of openness makes it the main cultural centre for the region. In line with the university's mission statement, one of the University of Klagenfurt's key tasks is to push boundaries through the research, teaching and many active co-operation projects taking place in the region and beyond. Presently, AAU maintains around 400 mobility agreements with high-profile partner universities worldwide and numerous joint international study programmes (Joint and Double Degree Programmes). In the field of education, AAU aims to cooperate with partner institutions in all regions of the world to promote mobility and further development of the European and global higher education area, as well as to further expand its visibility and competitiveness within the international scientific community.
AAU has been taking part in the Erasmus+ programme since 1995 and has also established a successful tradition within the International Credit Mobility (ICM) programme, gaining substantial project experience and developing relevant structures for efficient project implementation. AAU brings equally good results in the field of capacity building and strategic partnerships, successfully participating as a reliable and committed partner organization in numerous Erasmus+ Key Action 2 projects, as well as – within one particular Erasmus+ capacity building project – as a lead partner.